Coronavirus Updates and Guidance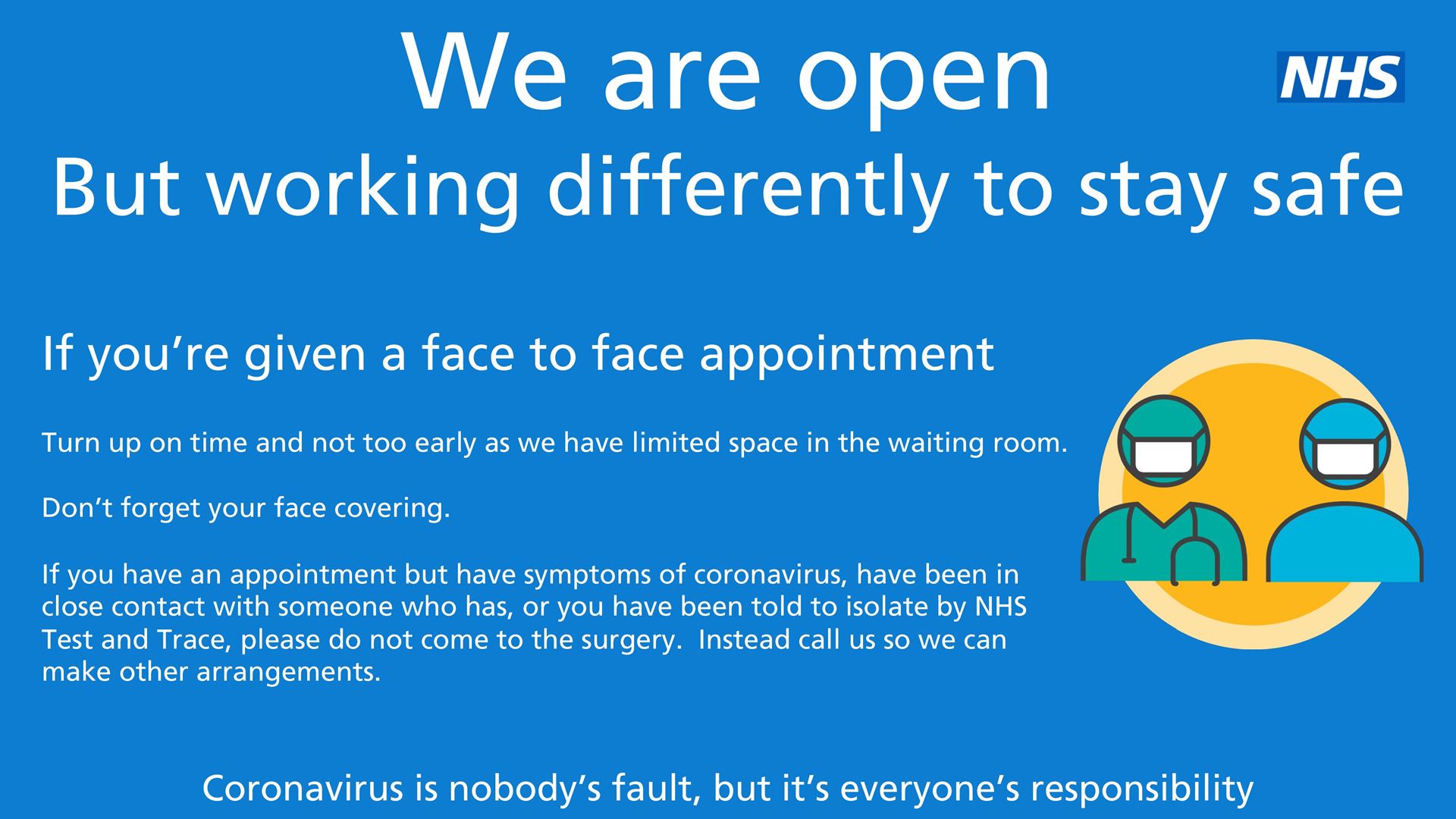 Coronavirus Status Checker
The NHS has released a Coronavirus Status Checker to help build up data on the current outbreak.It will help us understand more about how and where coronavirus (COVID-19) is affecting people now.

The more information we gather, the better the NHS will be able to respond to the outbreak.
The NHS especially wants to hear from you if you have symptoms, no matter how mild. But it also helps if you let us know if you're feeling OK.
If you have experienced any symptoms click here to complete the short questionnaire.
Head over to the NHS website for the latest advice and find more information on the government website.
Midlands Sexual Health Services Information
Some services within Staffordshire and Stoke-on-Trent have now been restored (some at limited capacity) including:
Implant/Coil Renewals and Removals (Initial clinics will be prioritised for service users who currently have a Implant/Coil in situ)
Symptomatic GUM
Emergency contraception
Vaccinations
Psychosexual services (via telephone consultation)
An appointment must be booked before you visit. Call 0300 7900 165 to book or to speak to a member of the team for any sexual health or contraception query.
Free STI testing kits are also available for patients in Stoke-on-Trent and North Staffordshire. Tests for chlamydia, gonorrhoea, syphilis and HIV can be provided. The tests can be ordered online via SH:24.
Keep up to date with sexual health services in the local area on the Open Clinic website.
Coronavirus guidance for Carers
As the situation with coronavirus evolves, it's important to know what support is available to you as a carer and those you look after. If you are worried that you or someone you look after may be at risk, NHS 111 can offer direct guidance through their online coronavirus helpline. Call 111 if your (or their) symptoms become severe, and let them know you are a carer.
Answers to some frequently asked questions can be found here and there is also a joint statement about the coronavirus issued with the Carers Trust.
If you feel that you may have to forego your care duties, look to put a contingency plan in place follow the link on creating a contingency plan where different sources of support are highlighted. Full information can be found on the Carers UK website.
Alton Surgery Dispensary Times
Due to the current pandemic, changes have been made to our usual dispensary opening hours. To order repeat prescriptions you can either use online services or call the dispensary between 9am and 1pm Monday to Friday.
The dispensary is open for collections at the following times
Monday

11:00am – 1:00pm

3:00pm – 5:45pm

Tuesday

11:00am – 1:00pm

3:00pm – 5:45pm

Wednesday

11:00am – 1:00pm

3:00pm – 5:45pm

Thursday

11:00am – 1:00pm

Closed

Friday

11:00am – 1:00pm

3:00pm – 5:45pm
Temporary Closure for Leek Moorlands Hospital's Minor Injuries Unit
The Minor Injuries Unit at Leek Moorlands Hospital will close temporarily from Friday 20 March.
The decision has been taken by Midlands Partnership NHS Foundation Trust (MPFT) in response to severe staffing shortages and low levels of attendance at the unit.
Opening hours for the Walk-in Centre at Haywood Hospital in Stoke-on-Trent are being extended to 7am-9.30pm every day. Patients are also able to access the Community Pharmacy at Haywood Hospital.
A spokesperson for the Trust has said: "We have taken the decision to temporarily close Leek Minor Injuries Unit in response to current staffing challenges coupled with low levels of attendance from the local population and to ensure that we continue to maintain patient and staff safety. This is a temporary closure and the Minor Injuries Unit will reopen as soon as possible.The Trust is reminding people to call NHS 111 or visit a local pharmacy for advice relating to minor injuries or ailments."
COVID-19: Stay alert to scams
Trading Standards have announced that cases of doorstep crimes are on the rise due to the COVID-19 pandemic.
Fake and dangerous; hand sanitisers, face masks and swabbing kits being sold online and door to door.
Charity collections supposedly helping the vulnerable.
Fake text messages claiming to be from the Government issuing the individual with a fake payout or fine for leaving their home. Neither are genuine – ignore and delete them.
Remember:
DO NOT click on links within emails or text messages.
Apply the 'hover test' to emails to check their actual origin.
Look carefully at spelling and grammar – poor spelling and bad grammar is unlikely from a genuine company.
Apply the usual processes when making changes or payments COVID-19 testing kits are only offered by the NHS.
There is currently (as at May 2020) no vaccine or cure for COVID-19.
Be aware of overpriced or fake goods such as, hand sanitiser or PPE.
Staying Active at Home
If you have been shielding or not able to get outdoors during the lock-down period, Public Health England has released a handy guide to staying active at home.
The guide is filled with example exercises, plenty of tips and tricks, advice on exercising safely and lists of useful contacts for further assistance.
Find out more information and download the booklet by clicking here.
Make Your Own Face Mask
Have you been getting crafty in lockdown?
Why not take a look at this handy guide from Public Health England on how to make your own facemasks at home.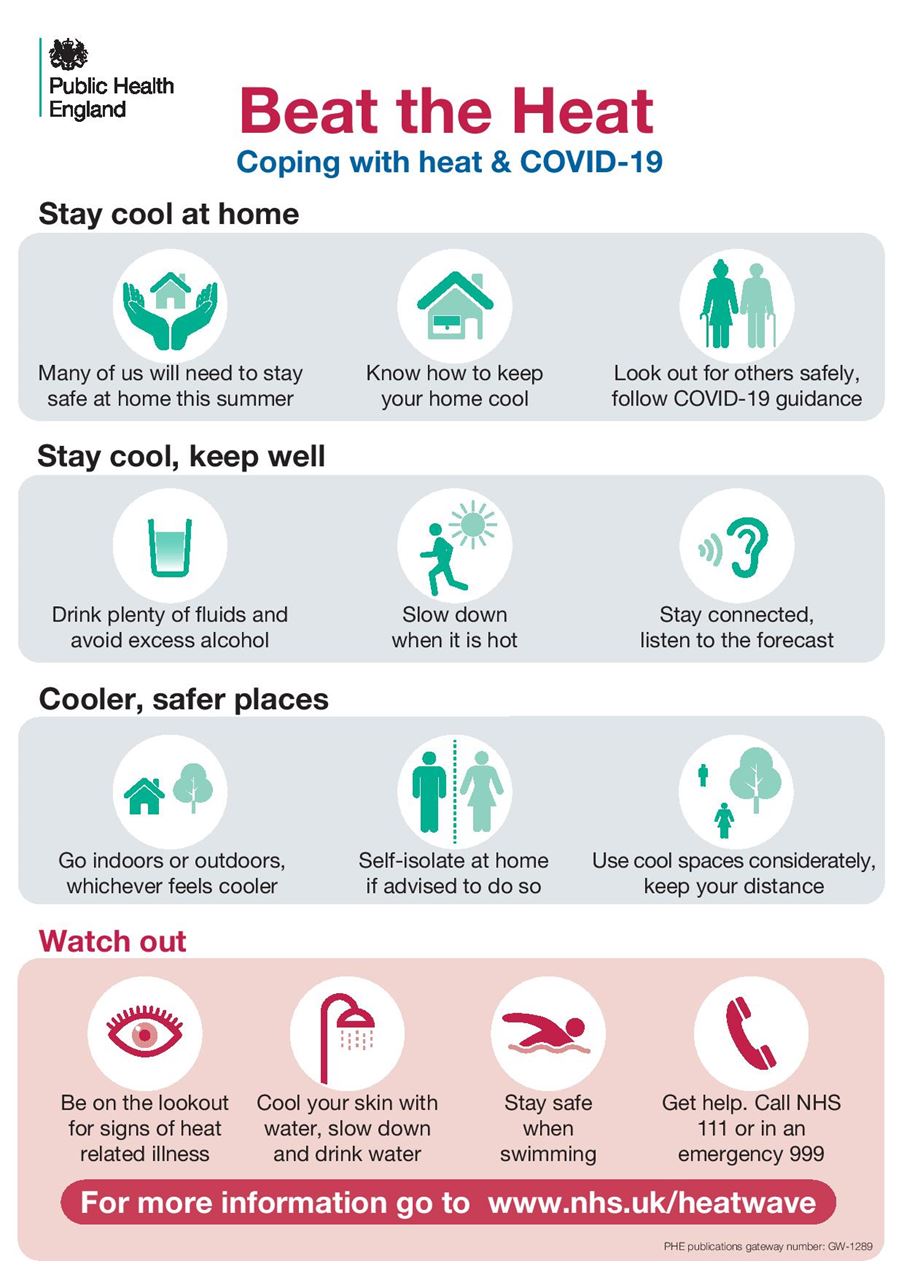 Beat the Heat
Although most of us welcome the summer sun, high temperatures can be harmful to your health. The heat can affect anyone, but some people run a greater risk of serious harm. Many of those who are at risk of harm from heat are also at greater risk of severe illness due to COVID-19 and may need to spend more time at home than they would usually. Others may need to stay at home because they are self-isolating or recovering from the infection.
During the COVID-19 pandemic, its especially important that you know what actions to take to keep yourself and others safe from high temperatures.
Take a look at the full list of guidence from Public Health England here.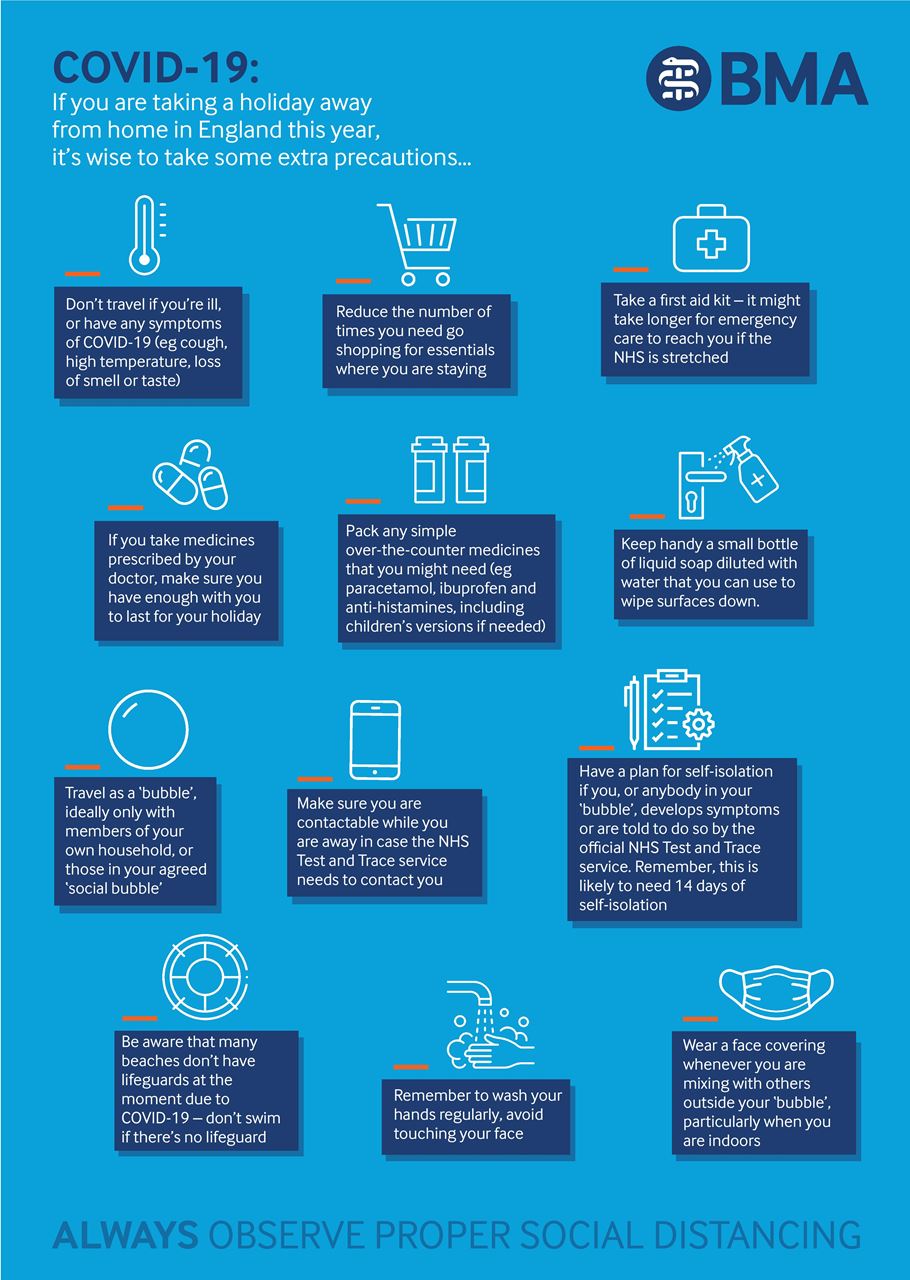 Face Coverings and Mask Exemption Letter Requests
With face coverings now mandatory in shops and supermarkets in England make sure you are following the correct guidance.
Certain individuals are exempt from wearing face coverings but you do not require a letter of exemption from your doctor. You can find more guidance about exemptions over on the Coronavirus guidance and support pages here.
Some people may feel more comfortable showing something that says they do not have to wear a face covering. This could be in the form of an exemption card, badge or even a home-made sign. You can find pdf exemption cards over on the government website here.
Those who have an age, health or disability reason to not wear a face covering should not be routinely asked to provide any written evidence of this.
The information on the government pages is based on current scientific evidence and is subject to change