NHS Prescription Charges April 2023
From the 1st of April 2023 the Department of Health and Social Care are increasing NHS prescription Charges.
| | | |
| --- | --- | --- |
| Prescription charge type | New charge (1st April 2023 onwards) | Increase of |
| Single charge (per prescription item) | £9.65 | £0.30 |
| HRT Prepayment certificate (valid for 12 months) | £19.30 | N/A |
| 3-month Prepayment certificate | £31.25 | £1.00 |
| 12-month Prepayment certificate | £111.60 | £3.50 |
For information on purchasing pre-payment certificates head to the NHS website here.
If you purchase a prepayment certificate before the 1st of April 2023 it will be charged at the old rate.
HRT prepayment certificates will only be available to purchase from the 1st of April 2023.
DISPENSARY OPENING TIMES
DISPENSARY OPENING TIMES
To order any medication requests over the phone you must call between 9am and 1pm.
The dispensary can be reached directly on 01538 704210.
We are accepting paper prescriptions.
All repeat prescriptions require three working days (72hrs) to process.
Collections are only available at the following times
| | | |
| --- | --- | --- |
| MONDAY | 11:00am - 1:00pm | 3:00pm - 5:45pm |
| TUESDAY | 11:00am - 1:00pm | 3:00pm - 5:45pm |
| WEDNESDAY | 11:00am - 1:00pm | 3:00pm - 5:45pm |
| THURSDAY | 11:00am - 1:00pm | CLOSED |
| FRIDAY | 11:00am - 1:00pm | 3:00pm - 5:45pm |
You can also order your medication through using online services or the NHS app, please speak to reception for more information.
COVID Vaccinations
UPDATE
People aged 75 years and older, residents in care homes for older people, and those aged 5 years and over with a weakened immune system will be offered a booster of COVID-19 vaccine this spring.
The Surgery will be contacting eligible patients to arrange an appoinment.
Alternatively, you can book online through the National Booking System for an appointment elsewhere. The nearest clinic is now based at Uttoxeter Heath Community Centre.
Thank you for your continued support,
Alton Surgery
GP Appointments
All patients can pre book appointments with the GP, there are also same day appointments available for patients with acute problems. Please be aware that appointments cannot be booked further than a week in advance.
📱 You can also use their NHS app or online services to pre book a GP appointment if you are unable to phone during our normal opening hours.
🏖 All GP appointments following a bank holiday closure will be book on the day only, to accommodate individuals who may need to be seen more urgently.
We would like to thank our patients who have continued to show support and understanding to our staff and the Surgery.
Medication Reviews
We are currently inviting some patients for a medication review. These will take place with our Clinical Pharmacist, who is working alongside the Surgery to help improve your quality of care and your involvement in the decision-making process around your own care.
If you receive a text message or call from the surgery inviting you for a medication review, please don't hesitate to book an appointment.
Care Navigation
We are introducing an initiative to help people to find the most appropriate source of help when they call our practice or pop in to make an appointment. This means that our specially trained reception staff may ask questions about why appointments are required. You are not obliged to answer the questions they ask, however by doing so we can make sure that those people who really need to see a GP can see them as soon as possible.
Virtually everyone who calls to make an appointment asks to see a GP, but very often help will be available more quickly from other highly skilled medical professionals such as nurses or pharmacists, or from other services, including the voluntary sector, they can support people with a wide range of social, emotional, or practical needs. Our trained reception staff will be able to offer you the most appropriate help using the range of information they have access to. If you have any questions, don't hesitate to speak to one of our reception staff.
Cervical Screening
Two women die every day from cervical cancer in England. Yet it is one of the most preventable cancers and getting screened can help stop it before it starts.
Women and people with a cervix aged 25-64 are eligible for screening. You will be invited for routine screening every three years if you are aged 25-49, and every five years if you are aged 50-64. Those registered as male will need to request an appointment from their GP or a local sexual health clinic.
Encourage those you love to get screened if they are overdue a test. You can call the surgery to book an appointment or to discuss any concerns you may have with a member of our team.
_____________________________________________________________________________________________
Mission Statement
To put patients first offering a friendly supportive service
To deliver high quality, evidence based care and health promotion to our patients
To deliver a safe, effective and responsive service
To provide the right care by the right person to each patient
To support our staff to grow
For an overview of general information about the Surgery, please click the link to our practice leaflet below.
Join Our Patient Group
The Aims of the Patient Participation Group
At its simplest, patient participation refers to patients, such as you, who are taking an active interest in health care.
It gives you, the local people, the opportunity to have a say in how services are planned, developed and evaluated, by developing a good working relationship with the practice staff and GPs. Our members get involved with the Intergrated Care Board (ICB); the ICB buy services for the population and influence health decisions.
The Patient Participation Group (PPG) provide important feedback to the Practice, encourage networking with other local service providers and engage healthcare professionals by invitation to meetings. We carry out surveys, seeking your opinion on changes you feel are required to improve services offered. You will be amongst the first to hear about news and updates.
Membership of the group is voluntary and involves attending monthly (the meeting room is supplied by the Practice). The frequency of the meetings may change as the Group progresses.
If you would like to become a member of the Group, please complete the PPG Application Form below and return to the practice.
Please see the Patient Participation tab at the top of the home page for more information.
Chair Based Exercise Classes - Now at The White Hart, Alton
Would you like to have a laugh and make new friends, combined with some easy chair-based exercises to improve strength and muscle balance?
Sessions take place at The White Hart, Alton, ST10 4AQ.
Monthly on Tuesdays from 10:30am - 12:30pm.
Upcoming dates - 24th January, 21st February, 21st March, 18th April, 16th May, 27th June, 25th July, 22nd August
If you are interested, please speak to Reception who will put you in contact with our Health and Wellbeing Coordinator.
Coffee Morning - The next coffee morning will be on Tuesday the 6th of June from 11:00 AM please join us at the surgery, everyone is welcome.
Tell us about your experience
We want to hear from our patients at Alton Surgery. During these unusual times your feedback is incredibly important and will help us to better deliver care services to all our patients.
If you have any comments about the care you have received or feedback on any of our services please do let us know. You can leave a review over on the NHS website here.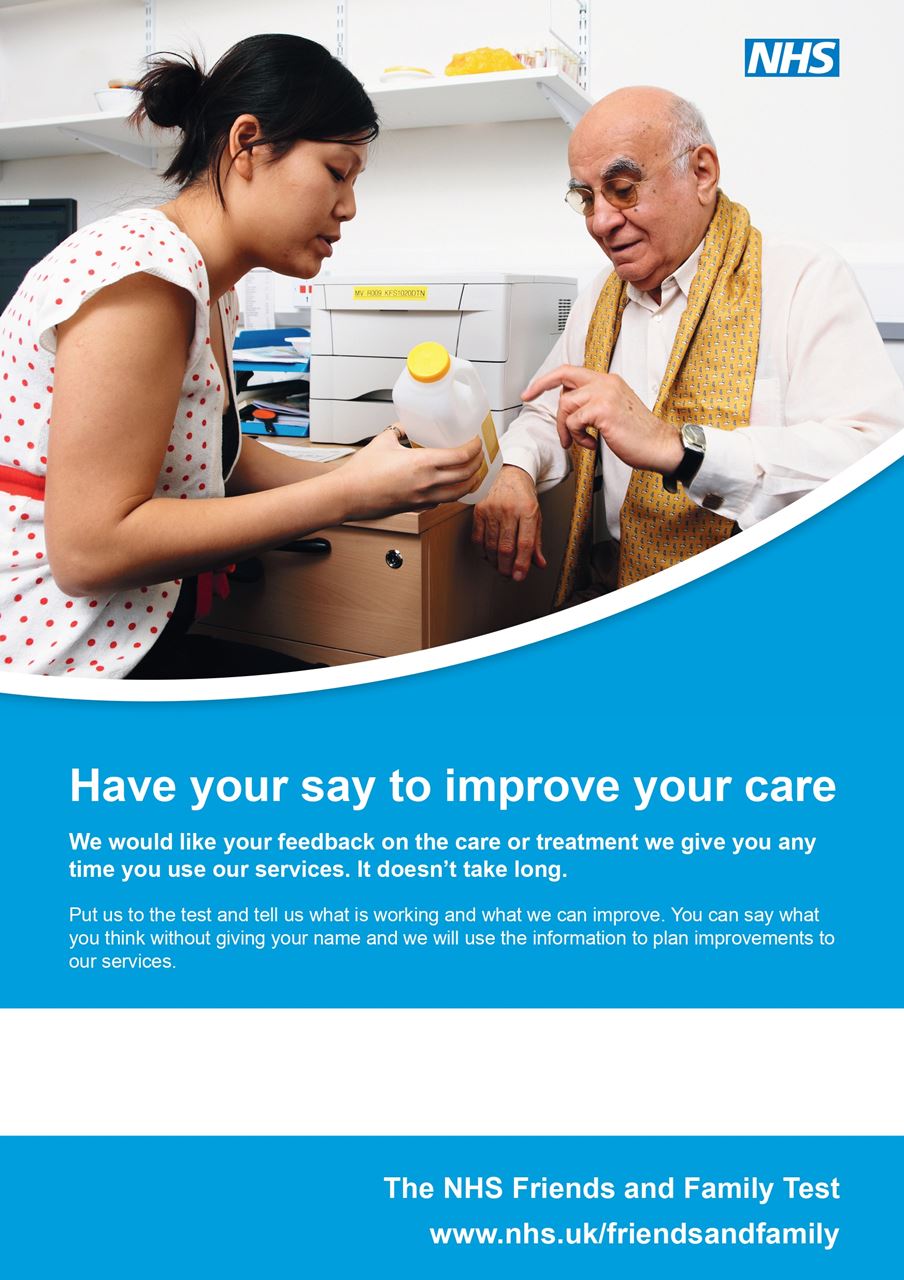 Waiting times for Secondary Care referrals
The My Planned Care website gives you advice and support while you wait and helps you to prepare for your hospital consultation, treatment, or surgery. This includes giving you information about waiting times at your hospital and other supporting and local services while you wait.
This website is updated weekly and can be viewed by anyone, which means you, your family or carer can all see the latest information.
Click here to head straight to the University Hospitals of North Midlands page which will give you up to date wait times for each service.
Please note that many of our referrals must initially be triaged by the University Hospitals of North Midlands before you can be referred on to a hospital of your choice.